The Grab Box Camp Kitchen
We call it the GrabBox, but the reality is, only your creativity is needed to get just the right outdoor kitchen. No two people are alike. Everyone has their own style. Whether you are camping, needing a checkstand to do business at the farmers market or getting your gear to the BBQ championships, the GrabBox can be configured for you.
It used to be that you would put everything in the plastic tubs, take your tables, setup the table, unpack the tubs to get your camping kitchen all setup. Not with the GrabBox, you arrive, put the legs on in under 2 minutes and you are ready to go. We've come up with the GrabBox to help accomodate the many different uses and configurations people are seeking. Buy only what you need, and change it in the future as your outdoor activities change. Al la carte. It's Grab-n-Go at its finest!
Small enough to fit in a car trunk, pop-up camper, trailer or small suv. Camping, hunting, fishing, farmers market, outdoor fair, even selling hotdogs at the soccer field. The uses are endless.
SAVE 20% with our Month of March Sale.
GrabBox base box Regularly $119.83, now only $95.86

Grab Box Kitchen Specifications:
Different components allow you to make your camp kitchen uniquely yours.
Finished (save time) or Unfinished (save money).
One time assembly takes 30 minutes. After that, load it up and your GrabBox is ready to go when you are.
Made of light weight 1/2" ply. 23 pounds. A great balance between being light weight and a durable design.
Front access panel becomes large side or back work surface.
Order today and your chuck box will be shipped within 10 business days.
Made in the United States.
Easy assembly required with a phillips head screwdriver. (for an even sturdier camp box, a little wood glue is recommended)
Measurements:

Box 16"h x 19.5"d x 24"w
Working Height 31"h
Shipping:
Shipping is provided by FedEx Ground Service. We will email a tracking number when your order leaves.

Month of March Sale.
Save 20% off the regular price of $119.83.
Base box only $95.86 .
"There are so many uses, easy to put together and a great addition to my camping gear." Damien, Phoenix AZ
"I love my Grab box. I assembled it yesterday, it was super easy. It's exactly what I was looking for. Thanks for making a really great and affordable camping box." Joe Collierville, TN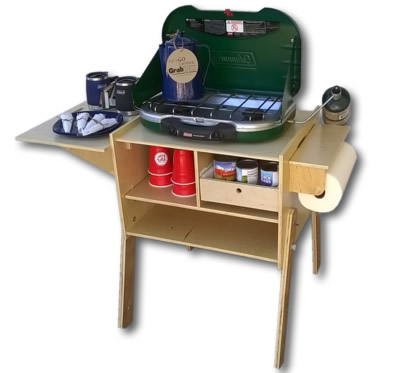 GrabBox. Virtually unlimited configuration options. Shown with options: Large 1/1 shelf, 2/3 partition, 1/2 drawer, paper towel holder. Plenty of space for a stove, plates, coffee pot and mini pantry.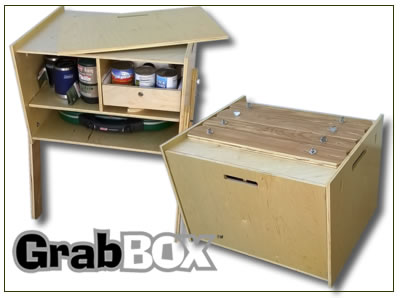 GrabBox in the closed configuration with legs mounted on the top of the box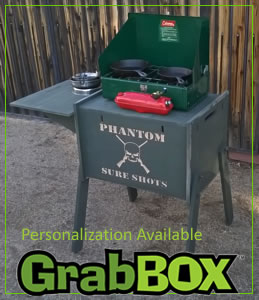 Personalization available, please email for options.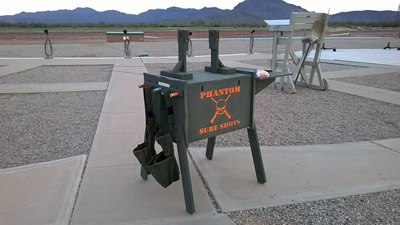 GrabBox Cleaning Station at Tucson Trap & Skeet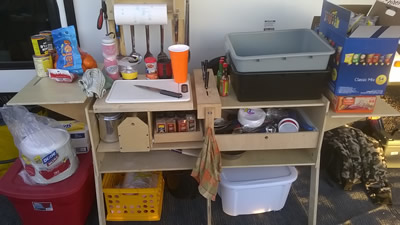 Hacking a GrabBox. Two GrabBoxes together to create the "FrankenChuck"